Mazarinades
---
Introduction
Mazarinades are the name given to the numerous pamphlets that were printed in France before and during the Fronde (1648-1653). They take their name from Cardinal Jules Mazarin (1602-1661), who is the subject of most these tracts, and they represent the first mass use of the press for the purposes of political propaganda.
Mazarinades are fairly common, with several thousand extant titles known, and they are well represented in many University libraries, for example Beinecke Library at Yale University, Library of UCLA, University of Wisconsin-Madison Library and John Rylands University Library.
---
Transcription of Mazarinades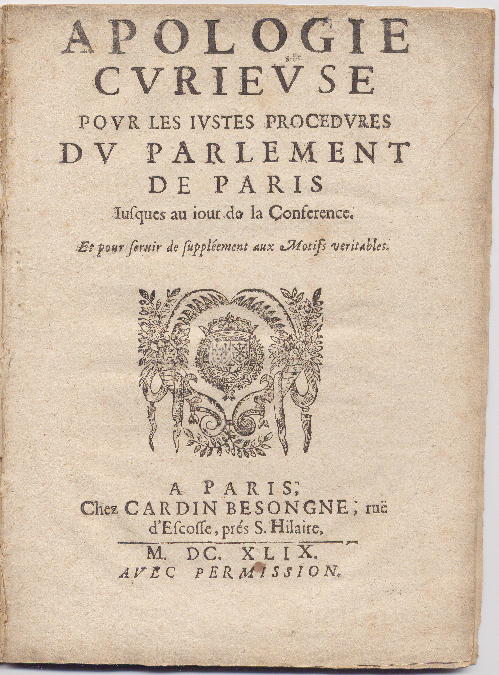 Paris : Cardin Besongne, 1649.
16.5 x 22.2 cm. pp.[1]-22. Sigs. [A]4 – F4 (F3 & F4 blank).
Moreau #99.
---
Bibliography
Hubert Carrier, La presse de la Fronde (1648-1653) : Les Mazarinades. Genève : Droz, 1989.
Celestin Moreau, Bibliographie des Mazarinades (3 vols.). Paris : Renouard, 1850-1851.
---