On Christmas Night
On Christmas Night is a stunning collection of new arrangements of popular Christmas favourites and beautifully composed less well known music, sung by the Choirs of St Thomas-on-The Bourne under the direction of the Director of Music Robert Lewis. The CD was recorded by Thomas Ashworth between 27th August and 3rd November 2013 at St Thomas-on-The Bourne church, Farnham, Surrey.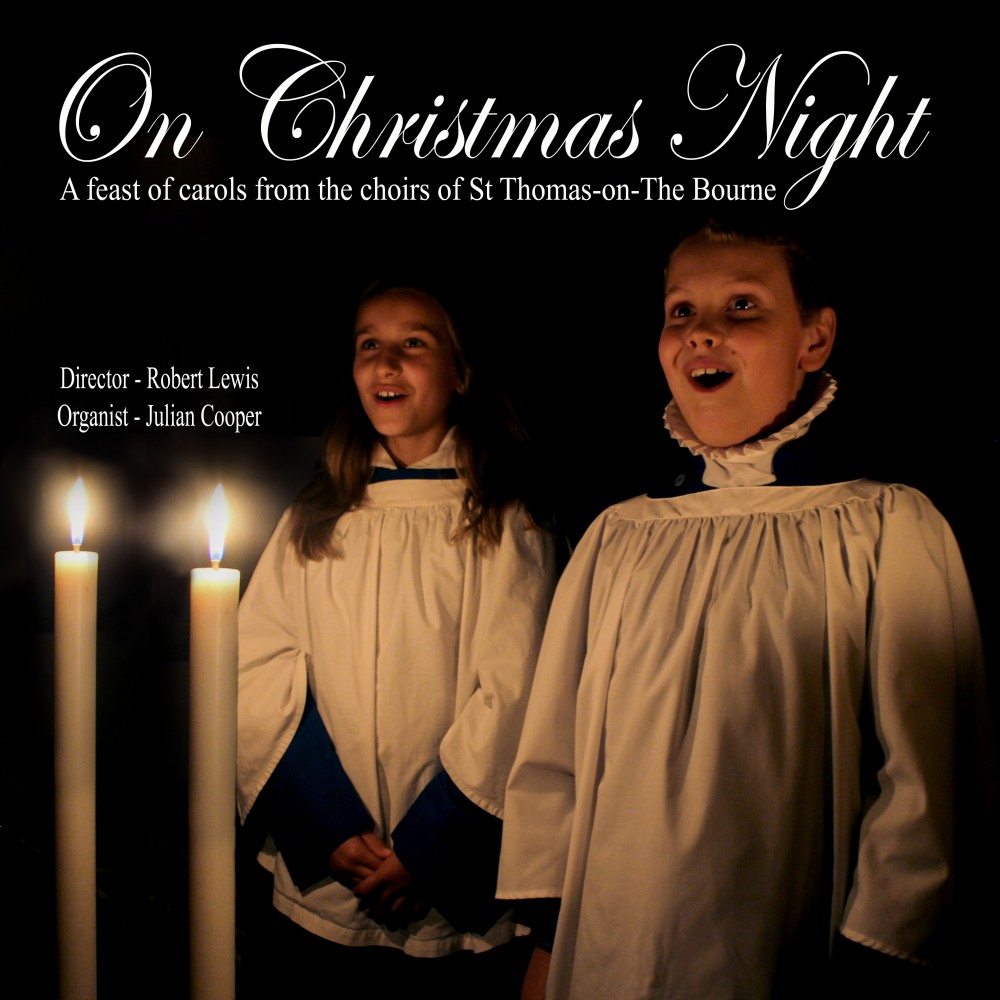 ---
Contents
The CD On Christmas Night encapsulates the festive period, with choir-only carols, as well as congregational carols, with new trumpet arrangements by Robert Lewis. The choir-only pieces are sung by the boy and girl choristers, and the gentlemen, while members of the chamber choir participate in the congregational carols. The organist is Julian Cooper. Four sample tracks from the CD are available to listen to or download from The Bourne Parish web site (or click on the linked tracks below).
The Carol of The Bells — traditional Ukrainian folk song (1ʹ34ʺ)
O Come, All Ye Faithful — words and music: John Francis Wade; descant: David Willcocks; fanfare: David Hill; trumpets arr. Robert Lewis (6ʹ17ʺ)
Sussex Carol — traditional, arr. David Willcocks (2ʹ00ʺ)
Midwinter — Bob Chilcott; words by Christina Rossetti (4ʹ15ʺ)
Once in Royal David's City — Henry John Gauntlett; words: Cecil Alexander, arr. David Willcocks; trumpets arr. Robert Lewis (4ʹ14ʺ)
Ons is gheboren een kindekijn — Jan Pieterszoon Sweelinck (3ʹ04ʺ)
Ding Dong, Merrily on High — 16th century French tune; harmonised by Charles Wood; words by G. R. Woodward (2ʹ02ʺ)
Bethlehem Down — Peter Warlock; words by Peter Blunt (4ʹ29ʺ)
O Little Town of Bethlehem — arranged Ralph Vaughan Williams and Robert Lewis; words by Bishop Phillips Brooks (3ʹ44ʺ)
I Saw Three Ships — traditional; arranged Richard Lloyd (2ʹ27ʺ)
Away in a Manger — music by William James Kirkpatrick; arr. David Hill (3ʹ04ʺ)
O Magnum Mysterium — music by Morten Lauridsen (6ʹ18ʺ)
The First Nowell — traditional; arr. David Willcocks; last verse harmonies by James O'Donnell; trumpets arr. Robert Lewis (6ʹ10ʺ)
The Three Kings — music by Peter Cornelius; words by H. N. Bates (2ʹ40ʺ)
Tomorrow Shall Be My Dancing Day — traditional; arr. A. Carter (1ʹ47ʺ)
Silent Night — music by Franz Grüber; words by Joseph Mohr; arr. Robert Lewis (3ʹ31ʺ)
À minuit fut fait un réveil — Jean François d'Andrieu (1ʹ13ʺ)
Hark the Herald Angels Sing — Felix Mendelssohn; words by Charles Wesley; arr. David Willcocks; trumpets arr. Robert Lewis (3ʹ56ʺ)
---
Purchase
The On Christmas Night CD is available for purchase for £10 each plus postage (two CDs have the same postage as one CD). As a special offer for Christmas only, there is free postage on all orders within the UK made during December 2018. All proceeds are used to support the Choirs of St Thomas-on-The Bourne.
To buy both On Christmas Night and Four Girls in Harmony for the special price of only £15 for the two CDs (£20 outside UK) please pay here !
| Destination | 1 CD | 2 CDs |
| --- | --- | --- |
| UK | £11.40 £10.00 | £21.40 £20.00 |
| Europe | £13.85 | £23.85 |
| Rest of the World | £15.00 | £25.00 |
You may purchase your CD securely online using PayPal. Please select your destination and number of CDs you want to buy, and then click on the Buy Now button to be transferred to PayPal's secure site.
If you have any questions, or wish to pay by cheque, please contact me at babelstone@gmail.com.
---
Four Girls in Harmony
Four Girls in Harmony (2018) is a selection of sacred and secular music from the 16th through 20th centuries, sung by the Girls' Quartet from the Choirs of St Thomas-on-The Bourne. The CD is available to buy on this site. See the parish website for details of other recordings of the choirs of St Thomas-on-The Bourne.