Four Girls in Harmony
Four Girls in Harmony is a CD comprising a selection of sacred and secular music from the 16th through 20th centuries, sung by the Girls' Quartet from the Choirs of St Thomas-on-The Bourne, Farnham, Surrey. Accompanied on piano and organ by Andrew Harrap. The CD was recorded April and June 2018 at St Thomas-on-The Bourne, under the direction of James Harrison.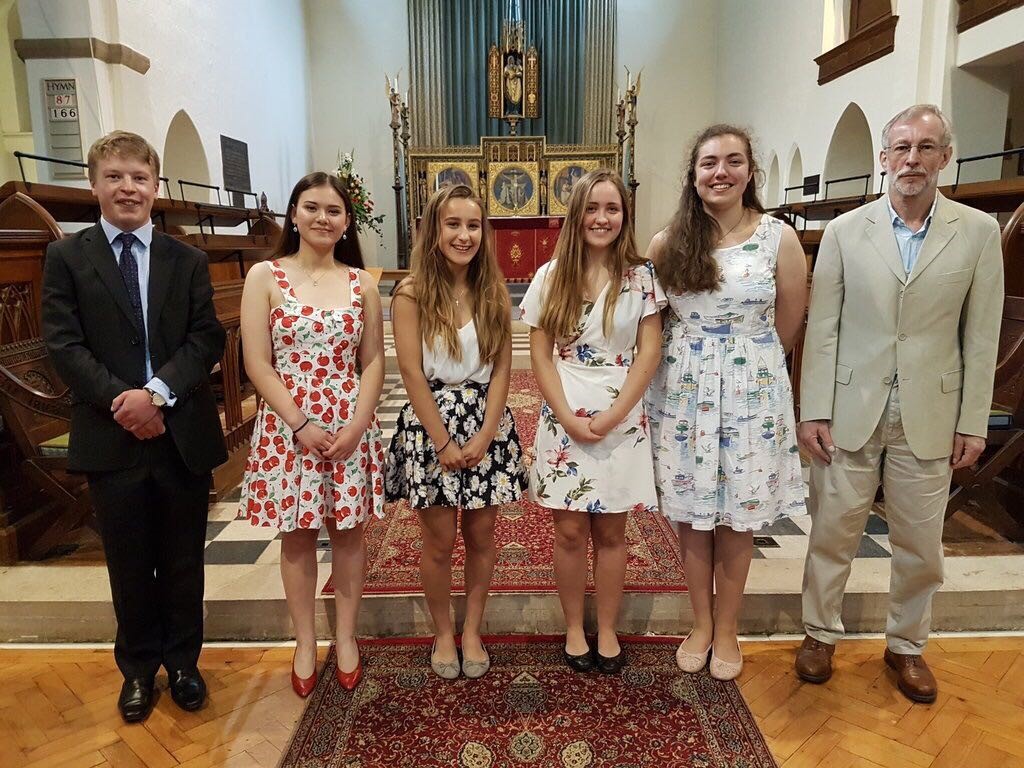 Photograph © Alison Payne, 2018.
From left to right:
Andrew Harrap (accompanist)
April West
Beth Payne
Izzy Edwards
Molly Beere
James Harrison (musical director)
---
Contents
The CD Four Girls in Harmony comprises a selection of twenty of the most beautiful solo, duet, 3-part and 4-part carols, anthems and motets, written or arranged for upper voices, both a capella and accompanied on piano or organ. It includes well-known pieces by composers such as Handel, Schubert, Mendelssohn, Fauré, and Britten, as well as some less well-known pieces that deserve to be better known. The pieces are grouped partly by season and partly by historical period (1–4: Christmas; 5–6: Easter; 7–12:Renaissance to Baroque; 13–19: Classical to Romantic; 20: Spiritual).
Two sample tracks from the CD are available to listen to or download from The Bourne Parish web site (or click on the linked tracks below). Additional notes for the CD, written by James Harrison, are available here.
Tomorrow shall be my dancing day — arranged Andrew Carter (1ʹ29ʺ)
How far is it to Bethlehem — arranged David Willcocks (2ʹ21ʺ)
This little babe — Benjamin Britten (1ʹ33ʺ)
The Infant King — arranged John Rutter (3ʹ27ʺ)
O vos Omnes — Thomás Luis de Victoria (2ʹ33ʺ)
Stabat Mater — Giovanni Pergolesi (3ʹ48ʺ)
Confitemini Domino — Alessandro Constantini (1ʹ31ʺ)
Allelujah, laus et gloria — Orlando di Lasso (1ʹ10ʺ)
Consacrons nos airs — François Couperin (2ʹ06ʺ)
Sound the Trumpet — Henry Purcell (2ʹ54ʺ)
He shall feed his flock — George Frideric Handel (4ʹ31ʺ)
Laudamus Te — Antonio Vivaldi (2ʹ38ʺ)
Psalm 23 — Franz Schubert (4ʹ26ʺ)
Terzetto — Felix Mendelssohn (2ʹ07ʺ)
I waited for the Lord — Felix Mendelssohn (4ʹ02ʺ)
Lift thine eyes — Felix Mendelssohn (2ʹ05ʺ)
Pie Jesu — Gabriel Fauré (2ʹ34ʺ)
Cantique de Jean Racine — Gabriel Fauré (4ʹ21ʺ)
Tantum ergo — Gabriel Fauré (2ʹ07ʺ)
Steal away — Spiritual, arranged John C Phillips (2ʹ08ʺ)
---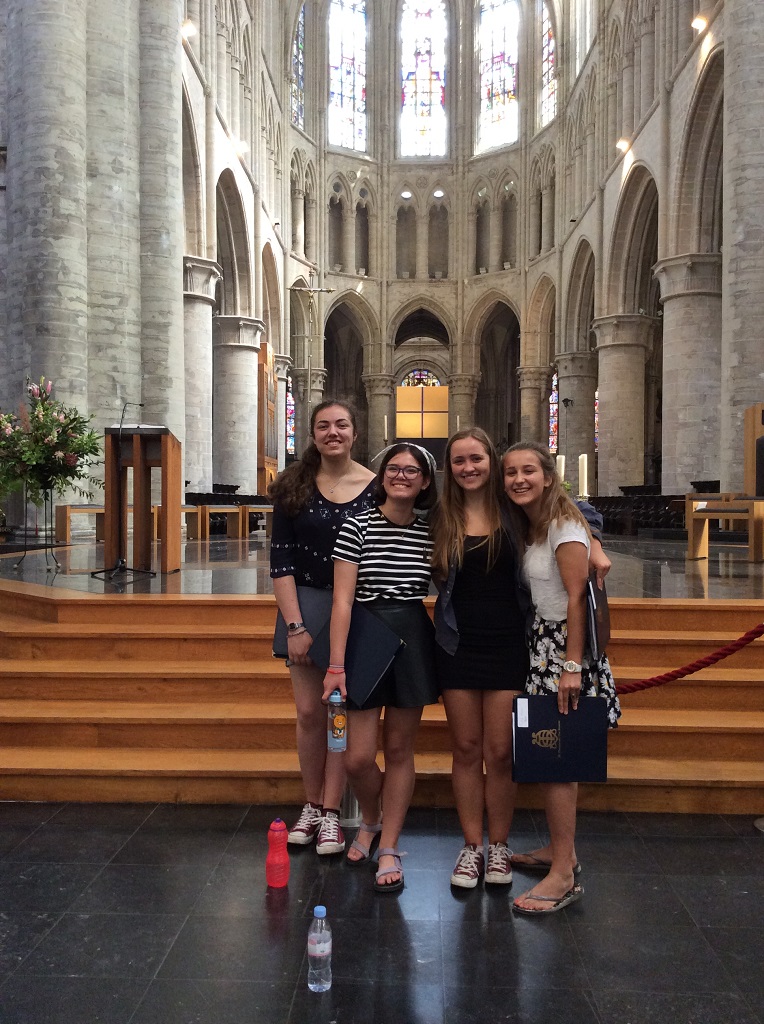 At the Cathedral of St. Michael and St. Gudula in Brussels, August 2017
---
Purchase
The Four Girls in Harmony CD is available for purchase for £10 each plus postage (two CDs have the same postage as one CD). As a special offer for Christmas only, there is free postage on all orders within the UK made during December 2018. All proceeds are used to support the Choirs of St Thomas-on-The Bourne.
To buy both Four Girls in Harmony and On Christmas Night for the special price of only £15 for the two CDs (£20 outside UK) please pay here !
| Destination | 1 CD | 2 CDs |
| --- | --- | --- |
| UK | £11.40 £10.00 | £21.40 £20.00 |
| Europe | £13.85 | £23.85 |
| Rest of the World | £15.00 | £25.00 |
You may purchase your CD securely online using PayPal. Please select your destination and number of CDs you want to buy, and then click on the Buy Now button to be transferred to PayPal's secure site.
If you have any questions, or wish to pay by cheque, please contact me at babelstone@gmail.com.
---
On Christmas Night
On Christmas Night is a stunning collection of new arrangements of popular Christmas favourites and beautifully composed less well known music, sung by the boys, girls and gentlemen of the choir under the direction of Robert Lewis, Director of Music at St Thomas'. The CD is available to buy on this site. See the parish website for details of other recordings of the choirs of St Thomas-on-The Bourne.
On Christmas Night (2013)
---